Interns gain experience and knowledge for their future careers
AUSTIN, Texas — August 16, 2018— ShipStation, the leading web-based shipping solution, continues to encourage professional development with its 2018 summer internship program. Juniors, seniors, and recent graduates have the opportunity to gain valuable experience and develop their career goals via one-on-one mentoring.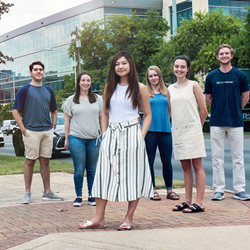 "ShipStation prioritizes education and professional development," said Robert Gilbreath, CMO & VP of Partnerships at ShipStation. "The company's internship program is a great way for aspiring professionals to advance and learn. Our 2018 summer interns are dispersed throughout various departments to develop niche skill-sets for their future careers. The internship program also benefits ShipStation, as it brings new ideas and outlooks into the organization. We always welcome ambitious graduates or students looking to work with us."
Participants in ShipStation's internship program work part-time for the duration of the summer. The curriculum begins at orientation where interns learn about the company's objectives. They familiarize themselves with ShipStation's culture as well as the expectations of their respective roles. The main objective of the program is for interns to learn how a SAAS company operates from different perspectives such as marketing, sales, and so on. To do so, they will work with various dynamic teams throughout the internship.
Partner marketing and events intern, Megan Miller, adds, "I've learned about the company from the bottom up by shadowing different people. I have enjoyed working on projects alone as well as collaborating with many people at ShipStation. This company has taught me what it takes to work full-time in teams. I'm very thankful for the opportunity to gain real-life work experience!"
Available details, internships, and other employment opportunities can be found at https://www.shipstation.com/careers/.
About ShipStation 
ShipStation is the leading web-based shipping solution that helps e-commerce retailers import, organize, process, and ship their orders quickly and easily from any web browser. ShipStation features the most integrations of any e-commerce web-based solution with over 150 shopping carts, marketplaces, package carriers, and fulfillment services. ShipStation's many integration partners include eBay, Jet, PayPal, Amazon, Etsy, BigCommerce, WooCommerce, Shopify Plus, Squarespace, and Magento. ShipStation also integrates with carriers such as FedEx, USPS, UPS, Canada Post, Australia Post, Royal Mail, Hermes, and DHL. ShipStation has sophisticated automation features such as automated order importing, custom best practice rules, product profiles, and fulfillment solutions that enable its users, wherever they sell and however they ship, to be exceptionally efficient at shipping orders. ShipStation is a wholly-owned subsidiary of Stamps.com (Nasdaq: STMP). For more information, visit https://shipstation.com .
Also featured in