The carriers you want. The discounts you need. All in one place.
Whether your customers are down the street or across the globe, ShipStation gives you everything you need to make shipping simple and affordable.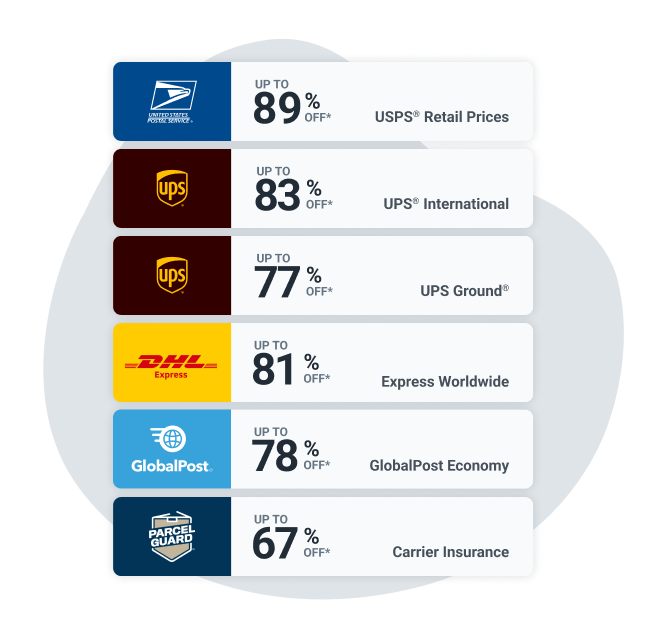 RATE SHOPPING SIMPLIFIED
One Account For All The Carriers
Multi-carrier shipping allows you to always access the best service for any order. Find the best rate regardless of size, weight, or speed. And keep track of everything by consolidating your carrier bills into one easy-to-use postage balance.
NO SURPRISES OR FEES
What you see is what you pay
The only good surprise when shipping is no surprises. There are no more end-of-month surprises with fuel and residential surcharges or peak season rate increases. Pay the rate you see when you print the label.
REACH A NEW WORLD OF CUSTOMERS
Straightforward International Shipping
Removing barriers between you and international buyers makes it easier to grow your customer base. ShipStation is dedicated to making shipping as easy for all of your customers. Regardless of where your customers live, ShipStation Carrier Services lets you access everyone. Streamline international shipping and save big with DHL Express, UPS, USPS, and GlobalPost.
ACCESS LOW USPS SHIPPING RATES & MORE
USPS Shipping Calculator
Get the best USPS shipping rates with ShipStation. Use our simple USPS shipping calculator to calculate your savings on label fees!
Great Shipping Discounts
Access shipping discounts of up to 84% off* retail rates from top carriers like UPS, USPS, and DHL Express.
Rate Shopping
Compare all available rates for any order. It may be a discounted rate on a service you already use or a cheaper, quicker new one!
Single Postage Balance
Avoid the hassle of maintaining different carrier accounts—access all these great carriers and services and pay from one postage balance.
No Extra Surcharges
The rate you see is what you pay. Avoid additional residential and fuel surcharges.
Access LTL Freight
With Seko LTL, you can access less-than-truckload freight delivery simply by using ShipStation!
Schedule Carrier Pickup
Avoid the post office. Bring the carriers to you! ShipStation Carrier Services allows you to schedule pickups for UPS, USPS, and DHL Express.
*Rates are limited to shipping from the continental U.S. only. These rates and discounts exclude shipment origins from Hawaii, Puerto Rico, and Alaska. Rates and any applicable discounts are subject to change at any time without notice and are estimates based on comparisons to publicly available retail rates.
Want to learn more about ShipStation?