UPS® & SHIPSTATION
Take Advantage of Reduced Rates with UPS® Shipping Labels for Orders Across All Channels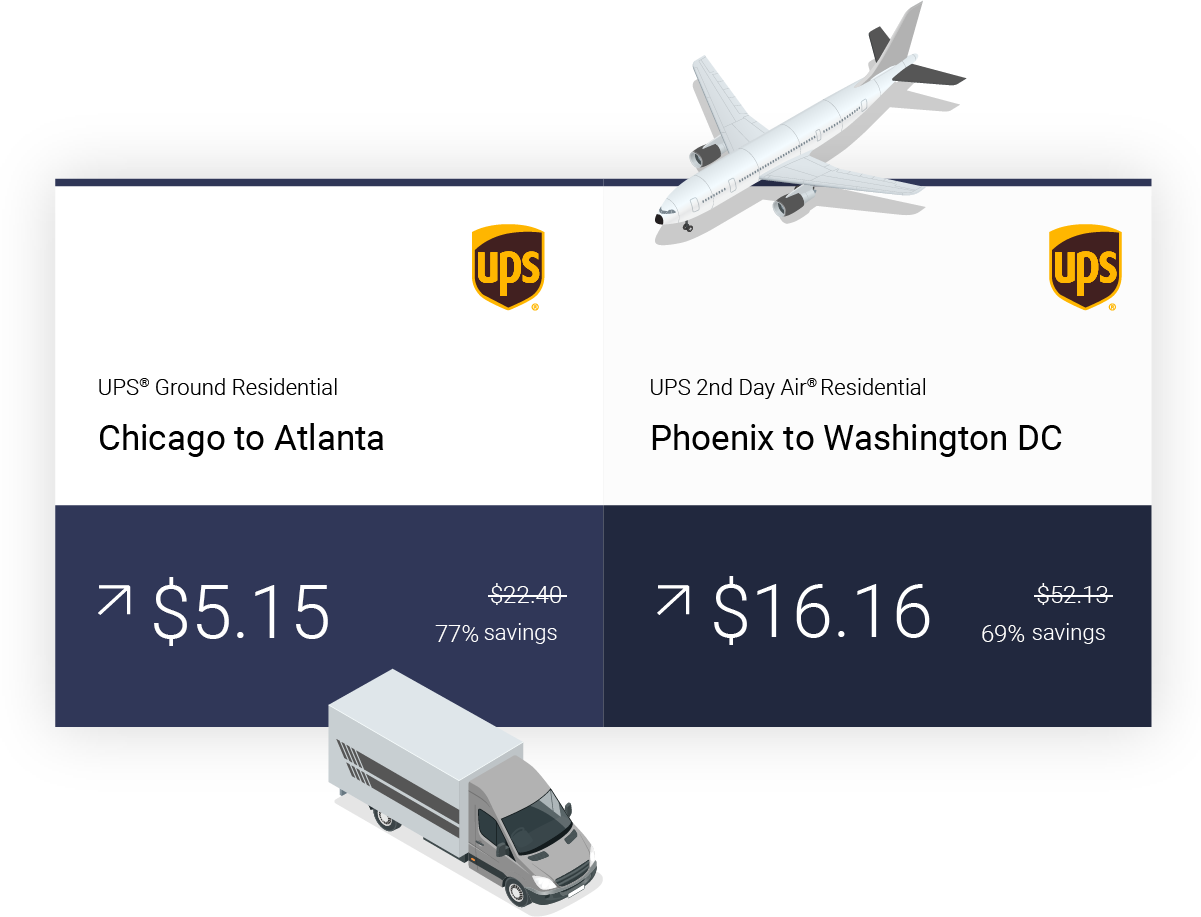 How ShipStation Helps Merchants Ship More for Less
ShipStation users can now print UPS® shipping labels worth up to 82% off Daily Rates. With new reduced rates, you can view real-time rates from UPS®, print labels, generate branded tracking pages, and simplify the returns process directly within ShipStation.
With ShipStation, there is no need to create a new UPS® account. New users get instant access to reduced rates, up to 73% off UPS 2nd Day Air® service and up to 77% off UPS® Ground Daily shipments, right out of the box.
Discover the best rates for UPS® Ground Shipping labels when you use ShipStation.

Existing Customer? Set up Your UPS® account
UPS® discounts up to 82% off Daily Rates
No minimum shipping volume requirements
Avoid certain surcharges, saving you even more money
Updated UPS® tracking and delivery alerts
Domestic and international delivery services
The ShipStation Advantage
ShipStation not only gives you the ability to integrate all of your selling channels and carrier accounts, but we also make the entire order management and shipping experience simple. With branded shipping features and customizable shipping reports, ShipStation gives you all the features you need to easily manage your orders and keep customers happy. With just a few clicks, you can spend more time selling and less time shipping.
---
Create Shipping Labels
Import orders from 70 plus sources, connect to and compare rates from 40 plus carriers, and print labels and shipping documents in a snap.
Branded Shipping
Enhance the shipping experience and put your brand on labels, packing slips, tracking pages, email notifications, and customer returns portal.
Manage Inventory
View real-time stock levels across warehouses, reserve inventory, and set alerts from your desktop or mobile device.
Advanced Shipping Insights
With over 20 pre-formatted reports available right out of the box, ShipStation makes it easy to turn order and shipping data into action.
Reduce Human Error
Quickly scan picked products to ensure they match the order within ShipStation to reduce order rate and returns.
Automate Shipping Tasks
Create simple or sophisticated rules to run automatically every time an order comes in, saving you time that's wasted on manual shipping tasks.
Create a Seamless Returns Process
Include a returns label with each shipment or direct customers to their own branded returns portal so they can print a return label on their own.
Manage Shipments from Anywhere
Don't be tied to a desk. Manage shipments on the go with the ShipStation Mobile App.
UPS® services available in ShipStation
UPS Next Day Air®
UPS Next Day Air Saver®
UPS 2nd Day Air®
UPS 3 Day Select®
UPS® Ground
UPS Worldwide Express®
UPS Worldwide Saver®
UPS Worldwide Expedited®
UPS Standard®
*Rates are limited to shipping from the continental U.S. only. These rates and discounts exclude shipment origins from Hawaii, Puerto Rico, and Alaska. Rates and any applicable discounts are subject to change at any time without notice.
**UPS®, the UPS® brandmark, and the color brown are trademarks of United Parcel Service of America, Inc. Used with permission.
Want to learn more about ShipStation?