3 Vital Holiday Updates Your Ecommerce Website Design Totally Needs
Trying to buy the perfect present for a friend or family member is difficult enough as it is. Add in the challenge of sifting through a sea of potential presents and a deluge of deals and discounts in a desperate attempt to find the perfect gift? You're asking for someone to start banging their head on their desk.
Repeatedly.
While you've undoubtedly dedicated substantial time and effort to your retail website design 10 months out of the year, how your site looks during the holidays is especially important. Why? Since most holiday shoppers aren't buying gifts for themselves, a decent chunk of your web traffic is first-time visitors.
You only get one chance to make a first impression. And if you want to make holiday shopping easy on consumers and profitable for you, it's essential to make these three ecommerce website design updates.
Showcase Popular Products and Special Holiday Offers
As I mentioned before, you can safely assume a large percentage of consumers who visit your site during the holidays are doing so for the first time. And that isn't based on anecdotal evidence; the numbers back it up. Seventy-three percent of the participants in the 2016 Deloitte Holiday Survey said they planned on checking out new online stores in pursuit of the perfect gift.
Your website should resemble a sightseeing map that highlights only the content a casual visitor would want to see. It should be easy for shoppers to find exactly what they want as quickly as possible. If a consumer lands on your homepage and is too overwhelmed to go any further, they may give up and buy a gift card elsewhere.
To encourage visitors to stick around, make your site look like this:
… not this:
Real-World Examples
In this example from J. Crew, everything a holiday shopper needs is above the fold. The visitor can …
View a holiday gift guide
Browse new arrivals, classified by gender and age
Take advantage of two different discounts
Read three articles to use as gift-giving inspiration
L.L. Bean takes a similar approach to its holiday-themed homepage by prominently featuring its 10% off promotion in the hero image. The retailer also organized its products by gender and age but then went a bit further and added images of popular winter merchandise.
Finally, L.L. Bean takes advantage of a marketer's favorite emotion — FOMO, or fear of missing out — with the copy, "Hurry! Offer Ends Today!"
Neither J. Crew nor L.L. Bean try to cram in a ton of content; instead, both retailers focus on the options they know holiday shoppers are looking for. These websites are also good examples of a design element not every retailer seems to embrace: the power of white space. White space lets your audience rest their eyes and it helps make the accompanying images and text stand out.
Pro Tip: FOMO is your friend. Countdowns and language that creates a sense of urgency inspires shoppers to get in gear, or risk losing the opportunity to save big bucks.
Decorate Your Site for the Holidays
Unlike brick-and-mortar shops, ecommerce stores can't create elaborate holiday store displays. But that doesn't mean online retailers can't spruce up their site with new colors or content.
If you want to add some holiday-themed content, there are two things to remember:
Real estate on your website is already limited, so don't include holiday content simply because you think you need to. Every element on your site should contribute value.
Just as in-store displays can go quickly from charming to tacky, it's easy to go overboard when updating your site for the holidays. Adopt a "less is more" approach. And remember: white space is good!
Real-World Examples
Here are two good examples of retailers who added a little bit of holiday flair to their existing navigation menu and header images.
One from Baudville, a provider of employee recognition gifts …
… and one from pet supplies company Petco:
Both Baudville and Petco gave their ecommerce website design a little pizazz, without being over the top or needing a complete overhaul of the site.
Create Opportunities to Upsell and Cross-Sell
A positive customer experience (CX) is a must, but your business should benefit from your retail web design updates, as well.
According to NPD's 2017 Holiday Purchase Intentions Survey, holiday shoppers plan to spend an average of $793 on online purchases. To secure as much of this bounty as you can, you need to utilize upselling and cross-selling tactics.
A quick vocab lesson:
Upsell [uhp-sel] – Encouraging shoppers to purchase product add-ons or a premium/more expensive version of their chosen item(s)
Cross-Sell [kraws-sel] – Encouraging shoppers to buy products related/complementary to their current selection
Upselling and cross-selling take advantage of the common thought process: "Since I've already spent X dollars, what's another few more bucks?" These strategies make it easy for retailers to encourage shoppers to spend just a little more.
Real-World Examples
Amazon is the master at upselling and cross-selling. Here's an example of a product page for a flatscreen TV:
Right there at the top is the option to add "Expert wall mounting" to the purchase. And because the customer sees the $67 savings on the TV, they think, "I was already planning on spending $200 and now I'm only spending $133. So really the wall mounting is only an extra $50."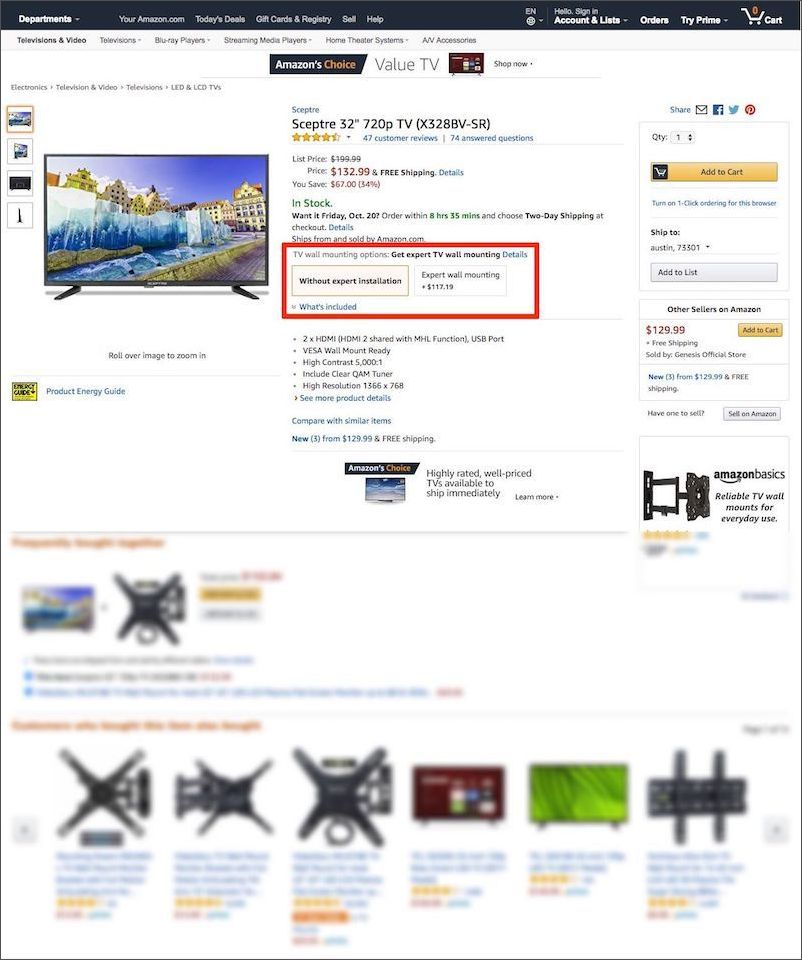 Boom. Upsell.
Just below the product details, Amazon offers both a package bundle that includes the TV plus a wall mount (featuring the #1 Best Seller tag) as well as a list of other related accessories purchased by shoppers who bought this same TV. Again, the customer thinks, "Well of course I need a wall mount for the TV. And it's only $20."
Boom. Cross-sell.
Pro Tip: Don't try to get consumers to take a bigger leap than what they're comfortable with. It's easier to convert a $500 purchase to a $650 order than to a $1000 order.



While making these ecommerce site design updates maybe a bit time-consuming, the conversion rate will be worth it. If you offer a great CX, these shoppers will be more likely to return the following year.
Podcast
Selling Channels