5 Examples of Blue-Ribbon Branded Shipping Boxes
Published on
August 10, 2022
You dedicated innumerable man-hours to building a well-designed, user-friendly website for your subscription box company.
You partnered with multiple carriers so you could ensure each box arrived on time.
And before all that, you created and curated an idea and theme you knew would be a hit with your target audience.
So then doesn't it seem silly to take all of the energy you've invested in providing a great customer experience and essentially throw it all away by shipping your merchandise in a bland, boring, run-of-the-mill package?
When a customer receives her order, the package has to be the icing on the cake — not just the crumbs. To help give you a little inspiration, take a look at some fantastic branded shipping boxes from these subscription ecommerce companies.
BarkBox
What BarkBox Delivers
Dog Treats and Toys
Why BarkBox's Boxes Are Awesome
BarkBox doesn't just send a random assortment of pup-related items to subscribers. Rather, every month's shipment has a theme. For example, "Chewrassic Bark", which features a plush dinosaur, a T-Rex chew toy, and "Jurassic Pork" treats.
BarkBox makes sure every part of each month's box fits the theme perfectly. In the example below, the theme is "BarkBeard's Treasure: A Pirate's Tail." (I can't lie: I love the puns.)
The exterior is designed to look like a treasure chest: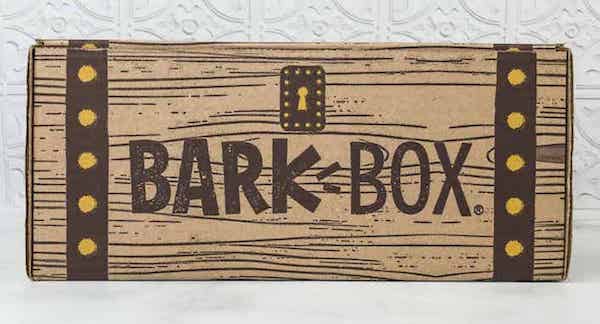 The interior wrapping paper has one side that looks like gold coins and jewels: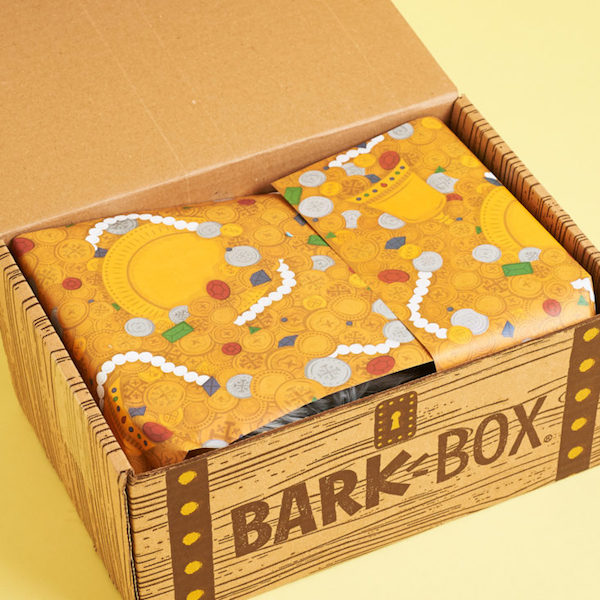 And the other side is a treasure map!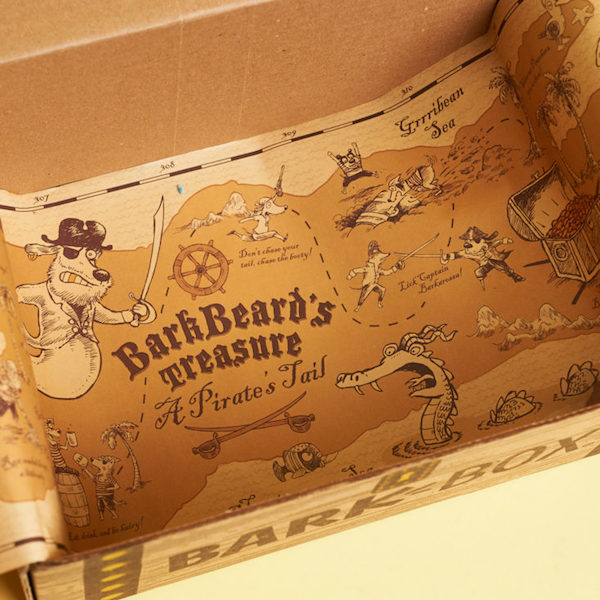 You can't help but admire BarkBox's dedication to its branded shipping boxes.
The Detox Box
What The Detox Box Delivers
All-natural, Environmentally-friendly Beauty Products
Why The Detox Box's Boxes Are Awesome
The Detox Market (which distributes The Detox Box) stays on brand with every element of its shipping boxes.  The company prides itself on distributing products that are simple and natural. And this sentiment is reflected in its shipping boxes which are undyed and feature just the natural brown of cardboard with white text: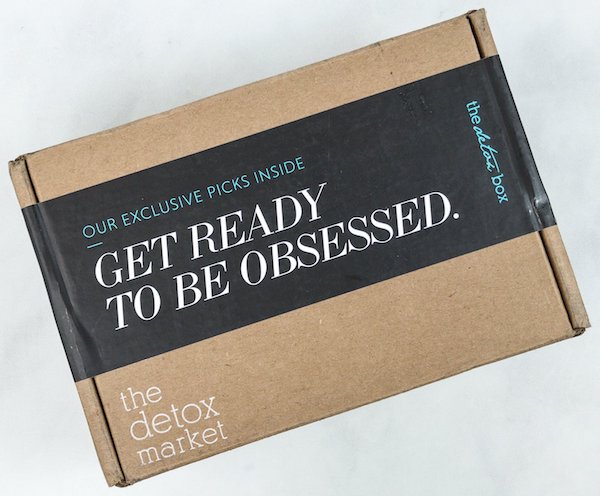 The Detox Market encourages its customers to be happy and healthy — both inside and out. So the messaging on the box interior is upbeat, motivating, and supportive:
The interior of The Detox Box also contains value statements such as "We are the green beauty experts" and "We travel the world to find the best products." With its branded shipping boxes, The Detox Market demonstrates its commitment to its mission and its customers.
Datebox
What Datebox Delivers
Supplies and/or Agenda for a Fun Date Night
Why Datebox's Boxes Are Awesome
Coming up with unique date ideas is hard. It's so much easier to maintain your routine. But routines can get boring. That's why there's Datebox, a subscription box that delivers everything a couple needs to have a date night that's not only special but also fun.
The activity in the box below is painting, so the exterior has an artistic vibe:
The pattern on the exterior is also mirrored inside the box:
Datebox aims to help couples break up their routine and get excited about date night. So both the text on the outside of the box and on the insert inside are in big bold letters, helping build anticipation about the box's contents. Like The Detox Box, Datebox wants its customers to know it cares about their wellbeing. That's why beneath the front flap it says, "Your relationship matters."
Trunk Club
What Trunk Club Delivers
Clothing for Men and Women from Nordstrom
Why Trunk Club's Boxes Are Awesome
Personally, I love shopping. But I'm well aware that not everyone feels the same way. Trunk Club is a monthly subscription box for people who fall into that latter category. Every month, Trunk Club subscribers receive a box of hand-picked clothing and accessories. Why I love the company's branded shipping boxes is because they look like actual trunks: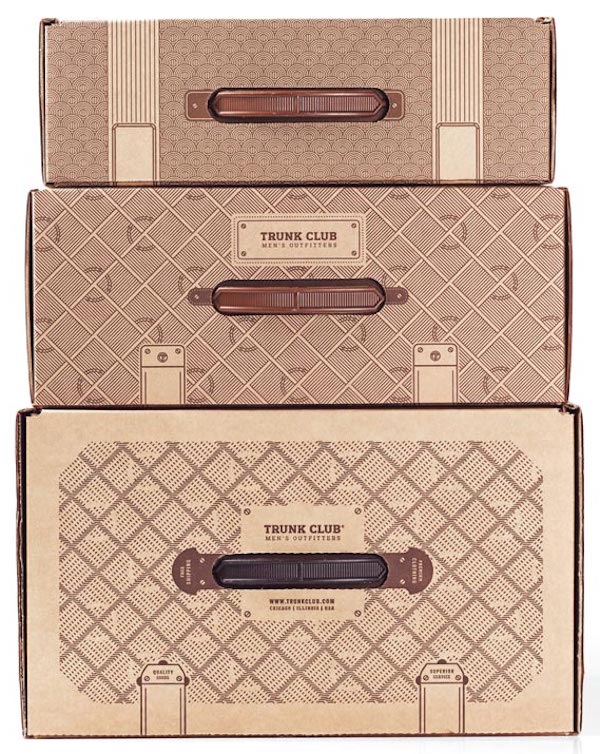 The company puts so much effort into the details of its packaging. Even the latches and handle have little graphical screws. It's a small touch, for sure, but it shows the brand doesn't cut corners.
This dedication is also demonstrated in the box's interior. The contents are carefully arranged, and the outfit is tied with a ribbon. The box even has a hand-written note from the customer's personal style expert: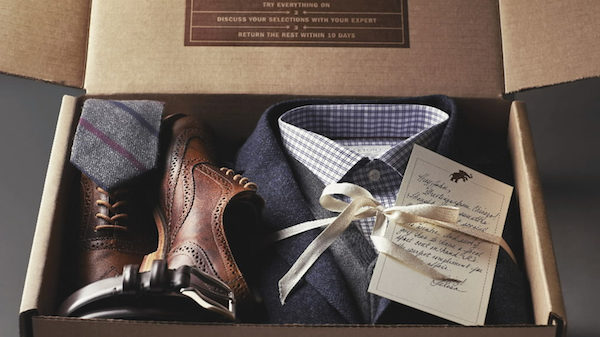 Trunk Club's mission is to help shoppers build a better wardrobe. And you can't help but feel just a little bit more sophisticated when you open a box that looks like that.
FabFitFun
What FabFitFun Delivers
Beauty Products, Clothing, and Accessories
Why FabFitFun's Boxes Are Awesome
FabFitFun is a little different than other brands on this list because its deliveries are quarterly. But what this allows the company to do is tailor the exterior of its branded shipping boxes to match the seasons. The photos below are from its summer 2018 box. And really, even if I hadn't told you the boxes were for summer, I'm willing to bet you'd know as soon as you looked at them. The graphics just so perfectly capture the theme, right?
As an added bonus to only sending shipments every three months, FabFitFun can pull out all the stops with every inch of its branded shipping boxes: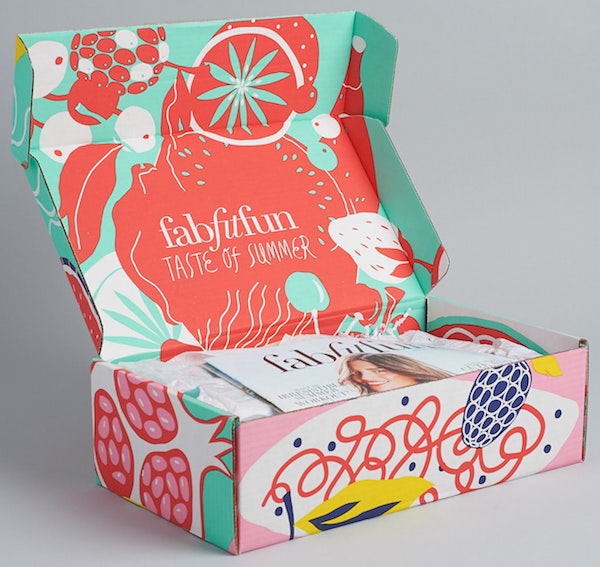 And I'm not just talking about the box itself. Even the sticker that secures the branded wrapping paper is a strawberry:
A strawberry with a hashtag, I might add.



Not every subscription ecommerce company can be as elaborate with its branded shipping boxes. But even branding small elements like the shipping label and packing slip or using branded packing tape can make your boxes memorable. So don't try to go all out immediately. Just take small steps to improving the post-purchase customer experience.
Podcast
Selling Channels