BullyBillows' 'Next Chapter': Dog Accessory Company Increases Efficiency 10x with ShipStation
Published on
October 13, 2022
THE CHALLENGE
These business partners wanted to keep up with ever-increasing customer demand with fewer errors and less time spent overseeing the dispatch process.
THE SOLUTION
ShipStation allows this team to spend more time working on their products and less time worrying about shipping.
RESULTS
10x
higher shipping volume
100%
reduction in shipping errors
Spending a day at BullyBillows' newly refurbished Nottingham warehouse will leave you with a smile on your face and fur on your jumper. The company's team of eleven humans and several dogs, led by Founders Anthony Koumi & Benjamin Billows, designs tough, comfortable, and fashionable dog accessories that are selling as fast as the team can get them out the door.
With office dogs running freely, designers drafting up new products, and warehouse employees preparing orders for shipment all under one roof, the mood could quickly turn to chaos. BullyBillows, however, have everything under control, thanks in part to ShipStation revolutionizing the way they receive and dispatch orders.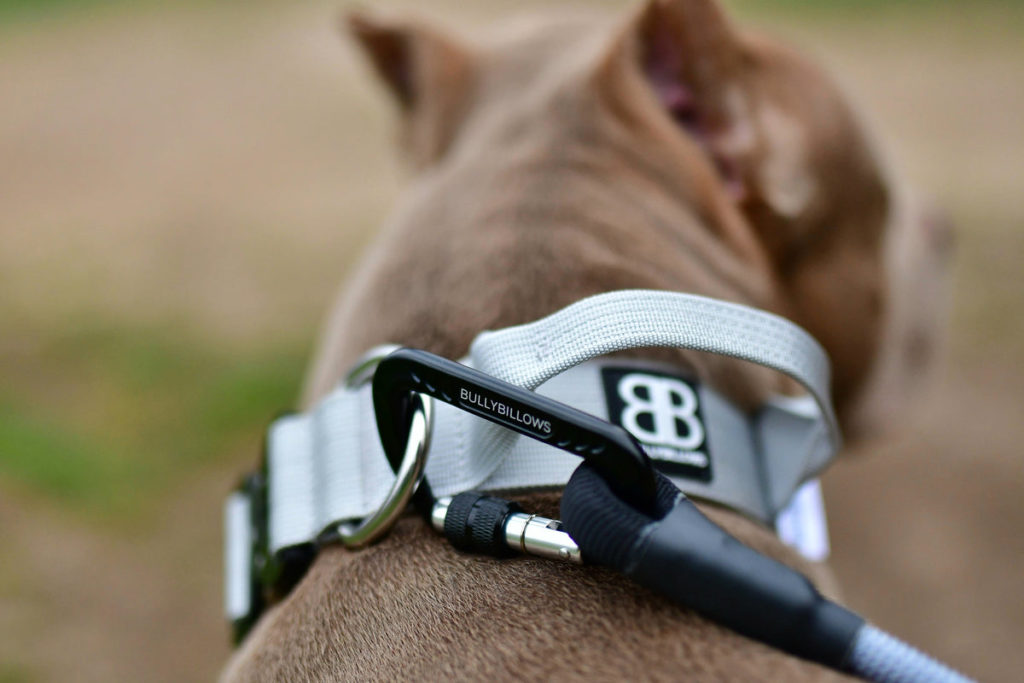 From Spare Room to Business Boom
For Ben and Anthony, doing business wasn't always so effortless.
In the early days of BullyBillows, operating out of Ben's spare bedroom, Ben and his fiancée, Natalie, used to handwrite names and addresses of orders, a process that alone could take hours on end.
"We knew there had to be an easier solution," says Anthony. "This is when we stumbled across ShipStation, which has been the 'fitting piece to our puzzle' in terms of shipping orders out to our customers globally."
Global shipping is most definitely a concern for this company, as BullyBillows has seen massive growth since the early spare bedroom operation only a few years ago.
"We started our journey fast approaching four years ago with a charity calendar as our first product, with which we were able to raise thousands of pounds for dog charities and organizations," the founders say. "As dog owners, we always struggled to get our hands on high-end, quality products that would last for a while. That led us to create our own range of products."
In those short four years, BullyBillows now boasts over 100 different product designs on their website, catering to dogs from big to small, nap-loving to rough-and-tumble. Thanks to ShipStation, they have been able to put down the Sharpie's and automate their shipping workflow to keep up with customer demand.
"ShipStation has enabled us to go from 15 to 20 orders per day up to 150 to 200 orders per day," says Ben. "It's definitely the next chapter to any business."
Fewer Errors, Better Results
BullyBillows began using ShipStation in 2019, and since then have developed a fool-proof method of 'getting ship done'.
"As soon as a customer places an order online, within seconds it's uploaded onto the ShipStation database," says Anthony. "It has a list of what the customer has ordered along with a nice, neat, written address."
These business owners have found ShipStation to be a much more reliable solution than hand-writing labels. In fact, they trust the software almost implicitly to relay correct information and get packages where they need to go.
"ShipStation detects any and all errors on orders such as an incorrect address, invalid country codes, etc., which allows us to contact our customers and retrieve the correct information," says Anthony.
In addition to catching errors, BullyBillows use ShipStation's automation functionality to take some of the manual labour out of packing orders. When creating a label, the weight of the package is already allocated. Easy, click-to-print labels with customizable presets take the time and worry out of the process, and ensure that each order is ready for delivery straight from the warehouse.
"ShipStation is user-friendly and plugs into our shipping carriers and online store which allows us to print orders out within seconds. We're pretty much our own post office," says Ben.
Leading the Way, Their Own Way
Every business owner knows that using every resource available is the best way to make your company profitable. BullyBillows has taken the initiative since day one, and continues to do so with the help if ShipStation. However, profits alone can't drive that kind of work ethic. As many ShipStation users have experienced, sometimes it's the love of what you're doing that keeps you going.
"Our passion is our motivation. We thoroughly love what we do. Building a globally recognized brand that is suitable and fitting for all dog owners and watching our social media community grow daily, along with always releasing new and exciting product ranges, is so exciting."
Join the brand on their social media here to keep up with this fast-running company.