How FedEx and ShipStation Help Entrepreneurs with a Mission
Published on
January 4, 2022
Since 2013, FedEx has awarded hundreds of thousands of dollars to business owners across the country through its FedEx Small Business Grant Contest. Every year, innovative entrepreneurs are encouraged to show off their creativity and passion in pursuit of one of ten grant prizes.
But it's more than just the money that drives these visionaries; it's also about the opportunity to connect with and learn from a community of like-minded business owners.
After all, these winners didn't simply start a business. They had a mission to accomplish — a mission that started with a story and a vision.
"Girls are so smart their brains might explode one day. Because they're so smart."
The quote above is one vivacious elementary school student's response to the question, "Are boys better than girls at science?" Clearly, she doesn't think they are.
Marcie Colledge and Kelly McCollum are the founders of Yellow Scope, one of the 2017 FedEx Small Business Grant Contest winners. The mothers and scientists met in 2008 and found they shared a common goal: to show young girls they have just as much right to be passionate about science as their male classmates.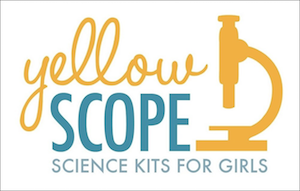 In 2014, Colledge and McCollum launched their eCommerce site that sells science kits for girls that aren't pink, sparkly spa and beauty kits posing as science kits. As the business grew, Colledge and McCollum learned just how much it would cost them to distribute the kits to retailers.
In order to meet the increased demand, the founders established partnerships with FedEx and ShipStation.
"I started doing a lot of homework and realized FedEx would be a really good partner for us," says co-founder Kelly McCollum in Yellow Scope's video, "Science before sparkles: Yellow Scope is getting real science to girls". "So I signed up for ShipStation, got the small business discount, and we've been using FedEx ever since."
Turning everybody's trash into beautiful treasures
Unlike most Hawaiian beaches that are renowned for their beauty and tranquility, Kamilo Beach on mainland Hawaii is known for its accumulation of plastic debris drifting in from the Pacific Ocean. In fact, it's one of the dirtiest beaches in the world.
Enter Kat Crabill — a winner of the 2017 FedEx Small Business Grant Contest and loyal ShipStation user.
When Kat visited Kamilo Beach for a cleanup project, it inspired her to take action. Crabill knew she could use her metalsmithing skills to repurpose pieces of plastic into beautiful, polished gems. So she turned her love for making jewelry and protecting our oceans into a thriving business: Nurdle in the Rough.
Now, instead of living on a beach or landfill forever, the plastic is transformed into custom jewelry that will be cherished forever.
"Ecommerce is the way I sell my jewelry," says Kat in her grant contest video. "As I grow my business, I rely on FedEx to broaden my global reach."
In the past five years, FedEx has honored many small businesses that tell equally inspirational stories. Yellow Scope and Nurdle in the Rough are just two of dozens of entrepreneurs with a mission who have found success with FedEx and ShipStation.
What delights us is seeing how many of the FedEx Small Business Grant Contest winners are also ShipStation customers. We couldn't be prouder to play a small part in their successes and help them ship their mission out into the world.
Podcast
Selling Channels