Getting Inventory Management Right in Omnichannel Retail
Published on
January 4, 2022
This blog was contributed by Mohammed Ali, Founder and CEO of Primaseller, a multichannel inventory management software. Primaseller helps sellers build brand credibility by ensuring accurate stock information on all sales channels and supporting on-time order fulfillment.
Omnichannel retail was once the domain of big retailers alone. But building an ecommerce site or setting up shop on an online marketplace is much easier these days. Now smaller brick and mortar retailers can also embark on the omnichannel journey.
The actual execution, however, can be a tad bit tricky — particularly when it comes to inventory management. What makes it difficult is that the point at which inventory changes hands is different depending on the selling channel.
At a brick and mortar location, the shopper makes a purchase and leaves with her item(s). The merchandise is out the door and immediately no longer in the inventory. But in an online transaction, there's a delay between when the customer makes a purchase and when she gets it. The merchandise is paid for and is technically the property of the shopper. But until it's left the warehouse or store, it's still part of your inventory.
If your omnichannel strategy doesn't account for these variables, your inventory levels will be suboptimal. Stale inventory hurts your profit margins. And stockouts hurt your reputation.
Ready to build a powerful inventory management and omnichannel retail strategy? Adopt the techniques below.
Regularly Reconcile Your Inventory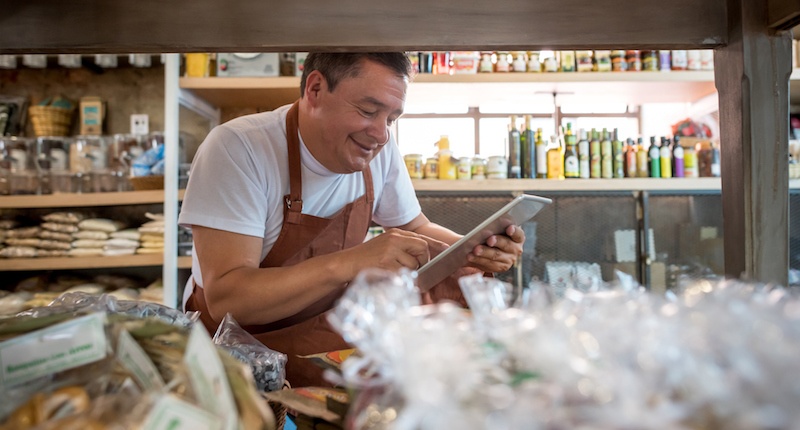 Retailers often find their digital inventory count and the actual inventory count don't match. There are a few common reasons this happens, such as:
Human error during manual inventory counts
Item location being incorrectly documented
Items returned to stock in the wrong location
Inefficient or incorrect returns processing
Omnichannel retailers are more susceptible to inventory discrepancies. But regular stock reconciliations can provide a more accurate view of your inventory.
Stock Inventory Across Locations
Keeping inventory at several distribution centers offers two main benefits:
You'll fulfill orders faster by shipping from a location closest to the customer.
If your store runs out of an item (or items), you can restock immediately from the nearest warehouse.
Keep in mind that online orders don't always need to be fulfilled from a warehouse. Make your store a distribution center for online orders and ship products from it, as well.
Be sure to identify sales patterns across channels, sources, and destinations. Then you can make more proactive ordering decisions for each individual item and warehouse. By optimizing the stock levels at each location, your omnichannel retail process becomes efficient and cost-effective.
Connect Your Systems
It doesn't matter if you fulfill every purchase using store inventory. In-person transactions and online orders still impact stock differently. And if you choose to have your merchandise spread across multiple locations, a single source of inventory truth is especially necessary.
When you integrate your shipping and fulfillment operations into a single system, you can …
Treat all inventory as a single entity, even if it exists in different locations
See which of your products are in stock at which location
Assess demand by channel and transfer inventory accordingly
Manage all your shipping partners from one interface
Easily update inventory counts when shoppers return items
So what's the most straightforward way to coordinate your inventory? Multichannel inventory management software.
You may want to also consider integrating your customer relationship management (CRM) software with your point-of-sale (POS) solution and inventory management system. This enables you to more easily upsell and cross-sell. Once you start exploring omnichannel retail, the possibilities are endless.
What is the biggest hurdle you've run into on your omnichannel journey? Tell us in the comments below!
Podcast
Selling Channels